Image slide
Image slide
Image slide
Image slide
Image slide
Image slide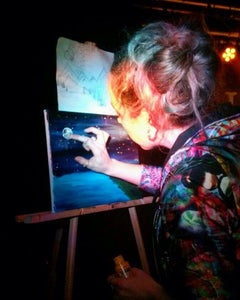 "I hope you find joy in my Artwork."
Jessica Vazzano is an artist based out of Denver, Co. Sharing her colorful soul through mountain floral landscapes and whimsical mandalas! She is mostly a self taught painter as she studied Fashion Design at Savannah College of Art and Design for a few years. Now colorful creations combine her love for painting and fashion.
Mostly painting rainbow color schemes, Jessica's love for color theory was ignited early in college. She wants to create as much joy possible through color/pattern and share it with the world through her heART!
** To inquire about a live painting gig, large scale mural or commissioned canvas please contact @ jvazzanosvisions@yahoo.com